Album review by John Powell

Rick Redington and The Luv | The Circus

Rick Redington and the Luv seamlessly introduce the best aspects of country and folk into pretty much every other genre out there. The Circus is conceptual in more ways than just one, a little rock here, a little blues there, and the title track a metaphor for our ridiculously complex and nonstop lives. "I would walk the high wire," Rick sings. "Sometimes I would fall." This opening song, driven by ethereal acoustic guitar and orgasmic vocal harmonizing, is a perfect song. Rick's voice, a deep, husky putter, is also rich with emotion, every bit of sarcasm, sadness, or wisdom peering through his drawl (not Southern, just laid back).

Then "Miss Kitty" shows up, a honky tonk groove complete with slide guitar and twangy piano. "Nothing left to do but to call the ex-wife/it's a thing we have to do/in this life," Rick sings, supported by Heather Lynne on bass and Blake Gowan on drums, (Rick is credited as "Ringleader"). The song is completely different from "The Circus", but nevertheless sounds natural to the players.

"Get Up" is categorized by The Luv as "Rastbilly," a country swept reggae groove, propelled by one hell of a catchy chorus and light banjo beneath it. "Each one of us born to this place," Rick sings, "Each one of us in our own time/shall call this land home." It's one of the most fun songs on the album, and once again, so flawlessly executed that if you didn't hear the rest of the album you could easily mistake the group as roots reggae purists.

A key track is "Findlay", with Rick's voice especially growly, oozing like the lead electric guitar riding over hand percussion and a funky minor groove. The echo on Rick's voice as he sings the title is haunting and gorgeous. "I got to get moving up the line/body and mind/feeling just fine." It's one part Santana and one part Dire Straights.

Rick is both forward thinking and reflective. His lyrics are astute and not overdone, poetic without sounding forced, and appealing to the indie crowd as well as the country bumpkin. The band, overall, is highly approachable and totally adaptable. Each song on The Circus has a sound bite connecting it, whether a sports announcer or simply whirring noises.

They take on everything, even old school funk. "Acid Rain" is slinky, complete with horns, rhodes, and a ripping guitar solo. Meanwhile, "Rose Marie" is a trickling ode to good old days, Rick crooning over held out organ and fluid piano. Together with "Mr Bagly," a slow instrumental, the trio is a sure sign that The Circus was meant to be anything but rehashing.

I'll let you in on a secret: there are "Two free rides", or hidden songs, including the six-minute country ballad that early Elton John would give a nod to and the real album closer, a New Orleans-style street gimmick. Both deserve credit on the album, but as secrets are sweet to find.

Despite the album's arching ability to try all kinds of genres, everything sounds totally like Rick Redington and The Luv, and no album of recent release offers as much diversity with as much coherency. "You can't resist the genuine risk," Rick sings, ("Genuine Risk"), and you can tell he's singing from personal desire to take in all music, own it, and deliver it back with as much heart as any man can muster.

Bottom line: The Circus takes country elements and makes them rock, roll, skank, riff, and ride out into a glorious sunset.



Rock da Pasta~ 

A "Revolutionary Experience" where stylish food pays tribute to talented musicians & their extraordinary music!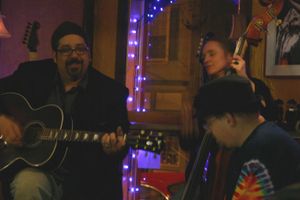 When you're in New Paltz New York, stop by & say hello to our good friend Cody!!!



We are honored with

~The Luv Diablo, our very own signature pasta dish!
"The Luv Bus is rolling into town loaded with jerk shrimp, spicy sausage, sun dried tomatoes, scallions and garden rottini in a beef ragu.  What a sweet life."

Rock da Pasta
62 Main St. New Paltz, NY
845-255-1144
Hours: 11:30-10:00pm (or Later)
Closed TUESDAY & WEDNSDAY







Thank you so much for coming and sharing your beautiful music with our customers. You are always a huge hit, and it makes us very proud."
The Perfect Wife
"A giant of a performer,
Rick Redington
sings with nuance and passion. His powerful voice soars above the valleys of the Green Mountains, and his virtuoso guitar playing is as smooth and velvety as the hillsides themselves." 
Don Hirsch, Director
Paramount Theatre
"I throughly enjoyed recording one of
Rick's
songs and found him to be a true professional, and a nice guy as well."
Jack Casady, Bassist
Jefferson Airplane
"Just wanted to add my thanks for a job well done on Saturday night. Your performance was not only rocking, but totally professional. Despite the bugs and humidity, everybody had a wonderful time. Sherri and I have spent the last couple of days fielding calls and e-mails praising the event as a whole and the band specifically.
Thanks again"
Andy Foster
Thank you soooo much for playing at our wedding. You guys were awesome, and we had so much fun, and everyone said you guys were unbelievable.
Ryan Foster
MTV writer, director and founder of New York Aids Film Festival and
President of Girl Behind The Camera, Suzanne Africa Engo
adds, "My favorite
Folk-Abilly-Rasta-Jam-
Rock Band in the world is headed by the one and only RICK REDINGTON, his music touches my soul, and lives in my hair... I am taken to a new place every single time I hear him open his lovely mouth to sing. I adore him and that Band of his is world class. LUV!LUV!"